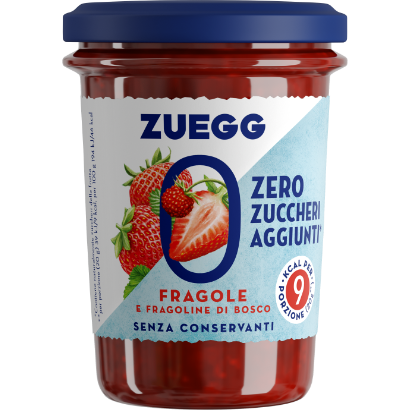 Without added sugars
STRAWBERRIES
Ingredients
Strawberries 60%, sweeteners (sorbitol syrup, steviol glycosides), water, wild strawberries 1%, jellying agent (fruit pectin), lemon juice from concentrate, natural flavors.
Contains naturally occurring sugars.
VEGAN AND GLUTEN FREE
Energy-reduced** strawberries and wild strawberries fruit preparation.
With sweeteners
**More than 59% kcal less than the average of the fruit preparations Zuegg 100% from Fruit.
[See comparison table]
AVERAGE NUTRITION VALUES FOR 100G OF PRODUCT
ENERGY

194 kJ - 46 kcal

FAT

0,1 g

OF WHICH SATURATES

0 g

CARBOHYDRATE

12,5 g

OF WHICH SUGARS

4,1 g

OF WHICH POLYOLS

6,9 g

FIBERS

2,2 g

PROTEIN

0,5 g

SALT

0,11 g
AVERAGE NUTRITION VALUES FOR 20G OF PRODUCT
ENERGY

39 kJ - 9 kcal

FAT

0 g

OF WHICH SATURATES

0 g

CARBOHYDRATE

2,5 g

OF WHICH SUGARS

0,8 g

OF WHICH POLYOLS

0,7 g

FIBERS

0,4 g

PROTEIN

0,1 g

SALT

0,02 g